Looking for new garage doors?
Whether you're a homeowner, builder, or business owner looking to upgrade your garage doors, we have you covered.
Garage Door Material Options
Construction, design, longevity, and affordability are all impacted by your material choice.
Wood
Our wood garage doors come in a range of timber species and are constructed using structurally superior fir and steel for best-in-class durability.
Steel
Steel garage doors are popular because they are durable, low maintenance, and available in a variety of styles and configurations.
Aluminum & Glass
The crisp lines and sleek design of aluminum and glass garage doors can add a touch of flair to a contemporary home or commercial property.
Composite
Full faced composite garage doors combine durability and beauty with a paint-grade finish to deliver a well-constructed garage door.
Faux Wood
Faux wood garage doors are built by applying molds of actual timber to composite materials for a wood-like appearance.
Fiberglass
Fiberglass garage doors have a fiberglass outer layer bonded to a steel frame to deliver a beautiful and strong door.
Garage Door Styles
Buy a garage door that complements your home's architecture and your personal style.
Carriage House
Carriage house garage doors are reminiscent of the doors used to close off carriage houses that were used to store horse-drawn carriages.
Modern
Our modern garage doors are available with wood, faux wood, or steel and glass construction and a wide range of design options.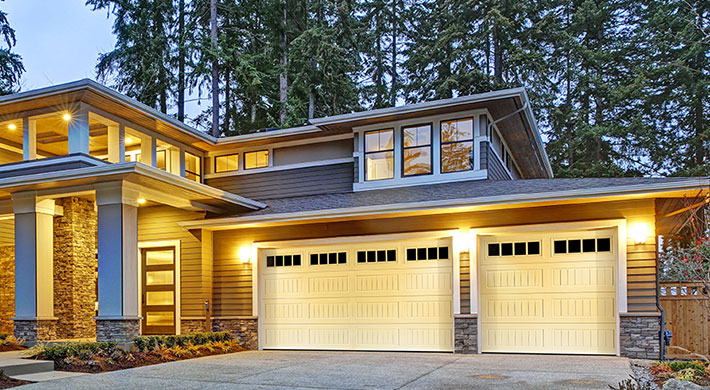 Traditional
Traditional garage doors styles are, well, traditional. They make a statement by not saying much.
Garage Door Applications
Pick the right garage door for the job.
Residential
On average, residential garage doors are opened 3 - 5 times a day or over 1,500 times a year.
Municipal
Texas is second to Illinois with more than 1,200 municipal governments - that's a lot of garage doors.
Commercial
Looking for broad product selection and professional installation? Doorvana is happy to do it all.
Garage Door Brands
Looking for a wide range of product options? By carrying the most popular garage doors available, we're sure to have a door you want.
Our Story
Our founder grew up building and servicing garage doors with his father. Once Matt understood how to be successful, he struck off on his own and never looked back. The more doors he fixed and hands he shook, his business boomed referral by referral. That's how we still do business today – with an eager spirit, a knack for technical perfection, and an honest handshake.